Is it safe to use vapes and e-

cigarettes

?
Is vaping addictive? Do

e-cigarettes

cause

weight loss?

Should I worry about

fake

vape devices?

Exploring concerns around

vaping

in the media.
The vaping industry has grown massively over the last decade and millions of people across the UK now use e-cigarettes. The industry is tightly regulated in the UK, however many people are unaware of the safety and risks associated with vaping.
In this article we'll explore risks associated with vaping, links between weight loss and nicotine, non-compliant devices and more.

Vaping is a much safer alternative than smoking, however it is not entirely risk free. It is not recommended that you start vaping if you have never smoked or vaped before. Although not considered harmful, nicotine is a highly addictive substance and young people especially should not take up vaping.
However, for ex-smokers, vaping can be a great alternative to smoking cigarettes as vapes and e-liquids do not contain the same toxic substances, though they do contain some.
In the UK, e-cigarettes are tightly regulated for safety and quality. They're not completely risk free, but they carry a small fraction of the risk of cigarettes. E-cigarettes do not produce tar or carbon monoxide, two of the most harmful elements in tobacco smoke. The liquid and vapour contain some potentially harmful chemicals also found in cigarette smoke, but at much lower levels.
Who makes the laws for vape devices?
The UK's tobacco and vaping industries are governed by laws known as TRPR (Tobacco and Related Product Regulations) and the TDP (Tobacco Products Directive). You can find the full regulations on the UK Government website.
You should also know that the UK Vaping Industry Association (UKVIA) is the leading trade body in the UK vaping industry, they have provided an in-depth guide to compliant vaping products.
Vaping products must have a tank/reservoir capacity of no more than 2ml. Anything above this is not compliant with TPD regulations. CLP laws also govern the packaging requirements for vaping devices in the EU.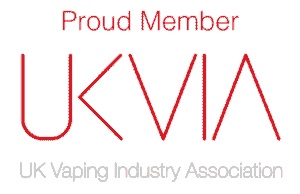 Unsafe

vape

devices

, ECID & Geek Bar Pro 1500
A recent story in the Daily Mail has put the issue of illegal vaping devices under the spotlight. It highlights how young people have been posting videos on social media with disposable vapes containing the equivalent of 125 cigarettes worth of nicotine, with #geekbar already amassing more than 46 million views on TikTok alone.
The Mail also claimed that some users of these illegal devices "have reported lengthy nosebleeds, coughing up blood, headaches, chest pains and dizzy spells."
Most of the recent negative attention centres around larger devices like the Geek Bar Pro, which contains over 1500 puffs and nearly 50mg of nicotine in a single device, well above the legal limit in the UK.
Trading Standards in Oxfordshire County Council have already removed hundreds of these products from shelves and are continuing to investigate stores suspected of selling them, though often the store owners aren't actually aware that the product isn't legal to sell.
How can I found out if my vape is safe to use?
The easiest way to check if your device is compliant is to check the MHRA website to see if its ECID number is listed there (also check the legacy list).
However, some of the main warning signs to be aware of include a tank/reservoir capacity greater than 2ml and if the device provides more than 600 puffs – though this is not a guaranteed way to spot a non-compliant device as it could have the correct capacity but still not be listed on the MHRA website.
Just because a device has an ECID number, it does not mean it is compliant. If a device has an ECID, but it does not appear on the MHRA's list, then it is not legal to sell in the UK and it is non-compliant.
Though it is addictive, nicotine is not considered a harmful compound and does not present a serious risk to health for adults. According to the British Heart Association (BHA);
Nicotine, while highly addictive, is not a significant health hazard for people without heart conditions. It does not cause acute cardiac events or coronary heart disease, and is not carcinogenic. But nicotine is a problem for people with heart disease. It raises the heart rate, contradicting the goal of most treatments. Tell your GP if you have heart disease and are using nicotine replacement.
In terms of the laws around nicotine content, compliant disposable vape device cannot have a nicotine level higher than 20mg/ml (2%). If your device has more than either 2ml capacity or more than 20mg (2%) nicotine then it is not compliant with UK regulations.
The NHS has more information on the safety of nicotine;
While nicotine is the addictive substance in cigarettes, it's relatively harmless. Almost all of the harm from smoking comes from the thousands of other chemicals in tobacco smoke, many of which are toxic.
Misinformation

and confusion vaping.
Misleading articles about the vaping industry are not uncommon since it grew to prominence over the last decade. Sensationalised and false articles such as those around "popcorn lung" have been pumped through the news cycle on many occasions despite a complete lack of evidence to back them up.
Yet the truth is that smoke-free alternatives have been scientifically substantiated to be a better choice for adults than continued smoking, according to the UK Vaping Industry Association.
Furthermore, results from a survey commissioned by PMI (carried out by independent research agency Povaddo) were shared on the UK Vaping Industry Association's website and suggest that more has to be done to better inform current smokers about safer alternatives to smoking.
It also suggests that access to vape devices and e-cigarettes is still more difficult than accessing cigarettes, possibly contributing to uptake hesitancy.
Does nicotine cause

people to lose

weight

?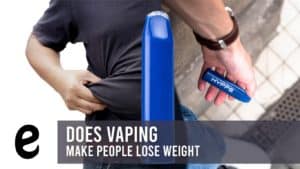 Nicotine has appetite suppressing qualities that are associated with weight loss. When people quit smoking, nicotine levels in the body drop and appetite increases. This makes weight gain common among people quitting cigarettes, and smoking alternatives like e-cigarettes can be a useful and safer replacement source of nicotine over the short term.
However, it is not recommended that someone starts vaping in order to help them lose weight, especially if they have never vaped before. Using smoking alternatives like e-cigarettes and vapes to lose weight is not effective in the long term, but could be a useful tool in the short-term for current smokers who are worried about weight gain to attempt to quit cigarettes.
Read our blog on vaping and weight loss to find out more details about links between weight loss, smoking, cigarettes and vaping.
We have a comprehensive Vaping FAQ page to help you find answers to all your vaping questions. If you have questions about safe vaping, compliance, regulation, questions about hardware or anything else vape related, check out the FAQ.
If you have any questions that aren't in the FAQ section, ask it in the comments section and we'll find an answer for you. We update the FAQ regularly to make sure we cover all relevant topics!