How 200 Million Smokers Worldwide Could be Converted to Vaping
Research from the Consumer Choice Awards has found that nearly 200 million people worldwide could be converted from smoking to vaping by using similar tobacco harm reduction policies to that of the UK's. Consumer Choice Awards found that the UK has 2 million fewer smokers because of their tobacco harm reduction policies (25% reduction), which is a lot more when compared to other countries around the world.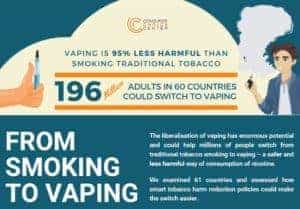 In total, 61 countries were analysed with the UK's approach to advertising, displays and lower taxes standing out as an example that the rest of the world should follow in order to reach the potential that the UK has.
"We used the UK's progressive tobacco harm reduction policies as a reference point and estimated how many current smokers could be helped to switch by having a more permissive vaping framework," said Fred Roeder, managing director of the Consumer Choice Centre. "In China, 76 million people could switch. The US (6 million) and Germany (4 million) would also see huge public health benefits by emulating the UK's approach."