Should you get a vape for Stoptober?
Thinking of

finally

quitting tobacco

this

Stoptober?

 

Thousands of

people have

turned to

 vaping as a

simp

le 

way to

help them 

ditch cigarettes for good

, so we've made a simple guide to help you start your vaping journey.
What is Stoptober and how do I get involved?
Stoptober has become a regular event for many people and is a good way to ditch bad habits or start good ones. Whether its quitting cigarettes, taking a break from alcohol or ditching fast food, finding a bad habit to drop throughout October can be a fun and social way to make a positive change to your life.  
Because so many people take part in Stoptober, many people find it easier to get support and stay motivated, especially if you take part with your friends or join a community online. According to the NHS, if you can make it to 28 days smoke-free, you're 5 times more likely to quit for good! 
For more information, check out the NHS quit smoking site to read up on more benefits of stopping smoking.
Can vaping help me
to
stop smoking?
There's growing evidence that it can. Vaping has already helped thousands of people to leave cigarettes behind. By inhaling nicotine as a vapour mist, you can avoid the harmful chemicals present in tobacco smoke but still retain a source of nicotine to help reduce cravings to smoke.  
According to the NHS, "A major UK clinical trial published in 2019 found that, when combined with expert face-to-face support, people who used e-cigarettes to quit smoking were twice as likely to succeed as people who used other nicotine replacement products, such as patches or gum." 
Vaping could be your ticket to a fun and successful Stoptober. But if you've never vaped before, it can be difficult to know where to start. Don't worry, we'll talk you through the process.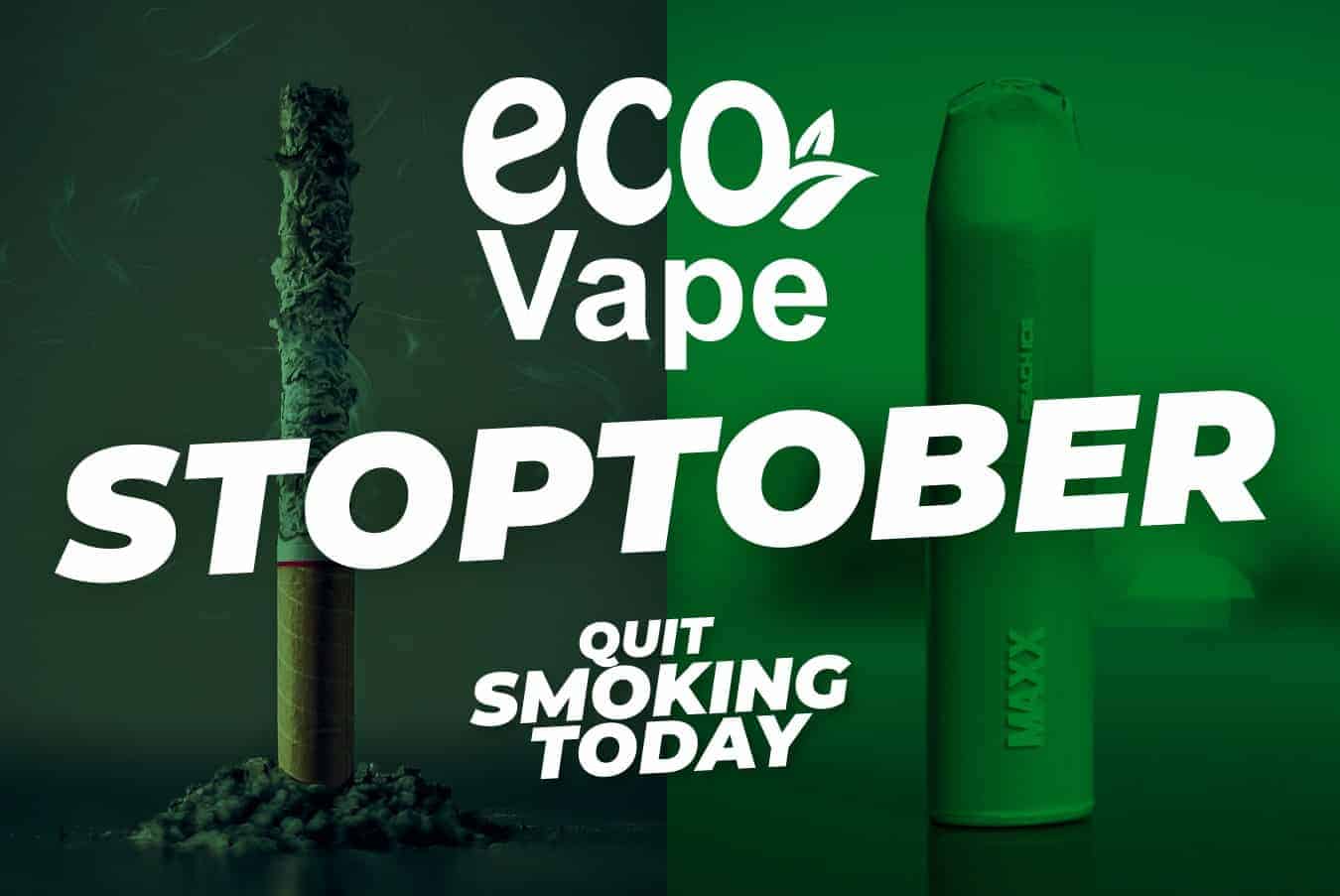 I want to try vaping during Stoptober – where should I start? 
Want to try vaping but aren't sure how to get started? No problem. We'll talk you through the different kinds of vapes you can buy and which ones are best to get you started: 
One of the easiest, risk-free ways of getting started with vaping. These are small, portable devices that usually provide between 300 and 600 puffs (drags) and are the cheapest kinds of vape on the market, starting as little as £4.  
These can be a great way to start vaping without having to commit to a large device and learn how to use and maintain it. There are different flavours and styles of mod, see our Top 5 Disposable Vapes of 2021 guide here to find the perfect disposable for you this Stoptober. 
Often known as pods, these are one of the most common types of vapes. They are refillable with most e-liquids and rechargeable and they last much longer than a disposable vape. You can change the liquid that you're using between different flavours and they only require a small amount of maintenance. 
These can be a great and cost-effective way of stopping smoking, and typically cost between £10 and £30 depending on the model. But because they are refillable, they can be better for heavy smokers who will quickly use up a disposable.  
You will have to replace the coil from time to time and remember to charge the device so you have it available when you need it most. E-liquids are very cheap compared to tobacco, so this can be a great way to quit and save money at the same time.  
One of the simplest and most convenient ways to take up vaping, pods can either be refillable or prefilled. They are lightweight and compact, so they are perfect when you're out of the house, travelling or in the car.  
Many models have interchangeable pods so you can switch flavours on the go, just make sure you keep it charged for when you need it. They priced similarly to vape pens at around £20, so again offer a cost-effective way of quitting smoking. 
These are large, rechargeable devices that have bigger batteries and the option to change the power output. They're ideal for experienced vapers as they allow you to control the heat, size and density of the smoke cloud. 
They have a large battery unit and usually have a separate coil and liquid chamber that is refillable. Because of their size and power, they are generally a more expensive option at around £50, but with regular maintenance they last for a long time – so they're still cheaper than smoking cigarettes. 
Eco-Vape: Your One-Stop Shop For Stoptober
Where can I get a vape?
Eco-Vape sells all kinds of vape devices at some of the best prices on the market. Whether you're just getting started or you're a seasoned vaper, you can find everything you need on our retail site from e-liquids and nicotine salts to pods and mod starter kits.  
Enjoy free delivery with orders over £20 and next-day delivery when you place an order before 1pm. Use our WebChat feature if you have any questions or need a hand getting started.
I'm a wholesaler looking to stock up for Stoptober.
You've come to the right place. You can find anything from disposables to e-liquids on our wholesale website, all at reduced prices for wholesalers. If you're stocking up in time for Stoptober, why not try our disposables which start from £1.60 per unit.  
You can create a wholesale account where you can browse our stock and prices and place order in your own time, or feel free to give us a call and speak to one of our advisers. 
Why should I stop smoking?
Health Benefits 
The most obvious and important benefit of stopping smoking is to your health – and it's not just about getting rid of that smoker's cough. Smokers have a much higher chance of developing lung cancer, heart disease, stroke and other serious illnesses and have lower life expectancy.  
Once you quit, over time you should see many different improvements to your health. According to the NHS Stoptober website, after just 48 hours all the carbon monoxide in your blood will have been flushed out and your sense of smell and taste will have improved. 
You can also expect better circulation after just 12 weeks of quitting smoking and your lung function can increase 10% after just 3-9 months. Over the years your risk of heart attack will decline by half, as well as your risk of death from lung cancer after 10 years of living smoke free. 
Save Money 
It's no secret that tobacco products are expensive, so stopping smoking can also save you money. There's a great website from NHS Inform that lets you calculate how much money you will save when quitting cigarettes based on how much you smoke. Take a look for yourself – in most cases it can be more than £1000's a year in savings! 
Be More Social 
Not only can you save money and feel healthier, you also benefit socially from quitting smoking. You won't have to worry about your clothes smelling of smoke and won't have to interrupt time with friends to nip out for that cigarette.
Quitting smoking also helps slow facial ageing and can help your skin look younger. It can also lead to having whiter teeth as regular smoking can lead to staining and gum disease. There's lots of hidden benefits when you stop smoking, so use this Stoptober to get started on your smoke free journey.
F
un f
acts about quitting smoking
(according to the NHS)!
If you can make it to 28 days smoke-free you're 5 times more likely to quit for good. 
After one year of stopping smoking your risk of heart attack will have halved compared to a smoker. 
Although nicotine gets a lot negative attention, it's the thousands of other chemicals in tobacco smoke that cause almost all of the harm from smoking.