Hybrid Nicotine Salts 
The classic Nicotine Salts and Freebase Nicotine are known all too well in the vaping world. Freebase Nicotine is handy for getting the kick you need from a shortfill 0mg juice and Nicotine Salts are used to slowly transition away from nicotine and smoking. They both have their positives for all vapers however both of them have their negatives.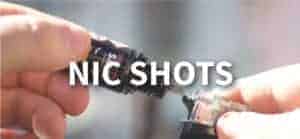 Freebase is said to be too strong by many vapers that hit too hard on the back of your throat, this can make it uncomfortable to vape and not very satisfying to intake. Freebase has a low concentration and is a pure form of nicotine. Nicotine Salts are said to be to smooth and not hitting as hard as it needs to. They have a high concentration but comes from an organic form of nicotine. Vapers have also said the satisfaction of vaping Nicotine Salts doesn't last long.  
However, there is a solution to the issues surrounding Nicotine Salts and Freebase Nicotine with new Hybrid Nicotine Salts. Hybrid Nicotine Salts are the perfect infusion of both Freebase Nicotine and Nicotine Salts. Hybrids hit well and satisfy you without any uncomfortable throat intake or itchiness. They closely replicate the feelings of a regular cigarette which makes them very popular amongst ex-smokers trying to quit. They hit fast and last long, best of both worlds!