Beginners Guide to Vaping!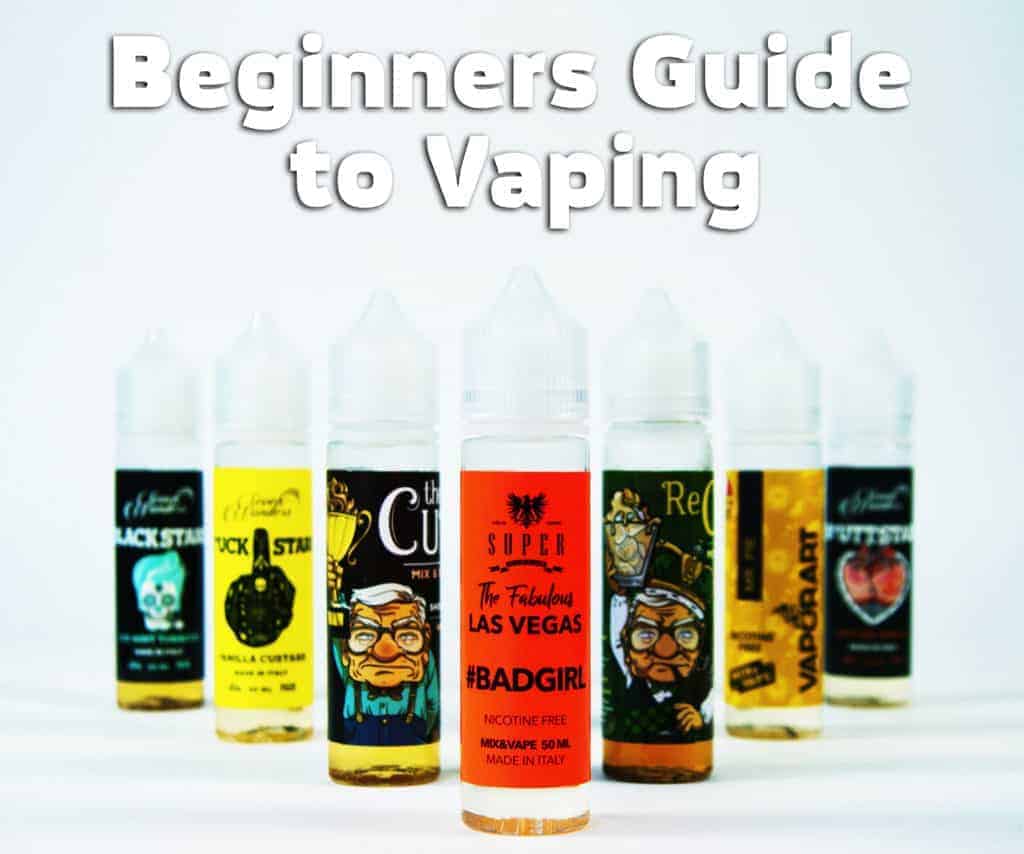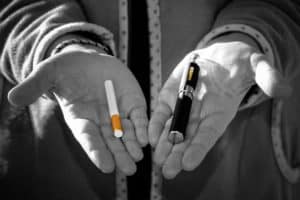 Why switch?
Vaping is cheaper than smoking. When you start vaping, initially it will cost you more than a packet of cigarettes. A standard e-cig starter kit can cost anywhere between £15 and £40. Then it is always advisable to buy some spare coils and some e-liquid. Over the long run, you will save yourself an enormous amount of money, and at the same time keep your lungs nice and healthy!
E-cigarettes heat nicotine, flavorings, and other chemicals to create a vapour that you inhale. Regular tobacco cigarettes contain 7,000 chemicals, many of which are toxic.  Public Health England has stated that electronic cigarettes are 95% safer than smoking and Cancer Research UK is supporting vaping in the fight against smoking relating diseases.

How a vape works
The main parts of a standard e-cigarette are the mouthpiece (drip tip), the tank, the coil, the airflow, and a battery.
The coil, which is powered by the battery, is used to heat up the e-liquid. Once the liquid is hot enough it reaches vaporization point and turns into the vapour you see coming out of e-cigarettes. Coils have a soft wick on them that absorb the liquid and regulate how much liquid is allowed near the coil in one go. This ensures that there isn't too much vapour being produced and the liquid burns at a reasonable rate, so you can have more time to vape before needing to refill. You can close or open the airflow to however you prefer to regulate the amount and heat of vapour being produced.
Types of vaping – Classic (MTL) vs Sub-Ohm (DTL)
There are two methods of vaping. The first is classic style or  MTL (Mouth to Lung). This mimics the same way as smoking tobacco cigarettes – you draw the vapour into your mouth, then inhale into your lungs. The e-liquid used for classic vaping is normally a higher PG to VG ratio, and the coils used are normally between 1.6ohm and 2.4ohm resistance, designed to give you the 'throat hit' that a normal cigarette would.
The second style is Sub-Ohm vaping or DTL (Direct to Lung), also known as 'Cloud-Chasing', which gives out much more vapour than classic vaping and a smoother throat hit. The user inhales the vapour directly into their lungs. The e-liquid used for Sub-Ohm vaping is normally a higher VG* to PG* ratio, and the coils used in the Tank are between 0 and 1.0hm resistance, hence the term sub-ohm (below 1.ohm). Due to the amount of vapour you are inhaling, e-liquids for Sub-Ohm devices are made with a much lower nicotine percentage. This method has become very popular in the UK and USA since the end of 2014.
Types of vaping equipment


Box Mods
Box mods are the most sophisticated and powerful devices out on the market currently. You have probably seen vapers with a box-shaped device blowing out huge clouds. Besides the shape of the device, box mods have more battery power than previous vapes and also come with advanced features to personalize your vaping experience.
Vape Pen
Vape pens are cylindrical and come in various styles. Vape pens are larger than their predecessor (cig-a-likes) to increase battery power and cloud production. When vape pens came out in the mid-2000s, the larger battery size, microchip inside the battery, and the use of a different atomizer were considered innovative at the time. With the advancements in vaping technology, today's vape pens have some of the latest features incorporated into vape pens. Vape pens have also risen in popularity due to the cannabis industry as it is used to vape flower, concentrates, and oils.
Cig-A-Like
You may not know what a Cig-A-Like is, but you most likely have seen one before. Cig-A-Likes are devices often seen in gas stations and used as entry-level vaping devices. The devices are called cig-a-likes because of their similar appearance and size to a real cigarette. This is also where the term electronic cigarettes originated from. The idea behind it was to mimic the smoking experience as close as possible to make a smoother transition from smoking to vaping.
Pod Mod
Pod mods are the latest devices that are gaining popularity in the vaping community. Pod Mods are low-wattage devices that are similar to a cig-a-like and are used with nicotine salt e-juices. Pod systems are a new and improved version of the cig-a-like, and they are the closest device on the market right now to smoking a cigarette.
RDA's and RTA's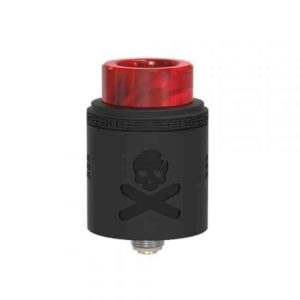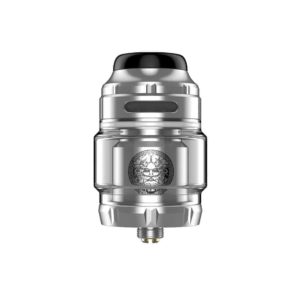 RDA stands for Rebuildable Drip Atomizer. An RDA is a device that requires the user to manually drip e-liquid onto the coil and wick before vaping. The user can get about five vapes before having to drop more e-juice onto the coil. The RDA does not contain a reservoir of e-liquid. Instead, the user removes the drip tip or the housing to expose the coil. While the coil is exposed, the user will drop several drops of vape liquid onto the wick and coil. Then, replace the tip or housing and continue vaping.
An RTA is a Rebuildable Tank Atomizer. The RTA design is the same concept as an RDA except that instead of dripping e-liquid, the RTA has a tank that contains e-liquid. In essence, an RTA is a device that allows the user to build their own coils but still enjoy the conveniences of a vape tank. Namely not having to manually drip vape juice every four of five hits.
Choosing your e-liquid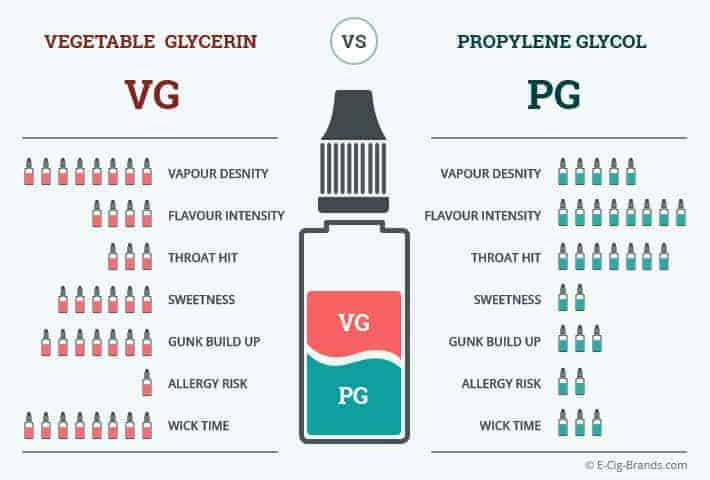 PG
Propylene glycol (PG) is the flavour carrying ingredient in your e-liquid (for a full breakdown of everything that goes into juice have a look at our E-Liquid Guide). It's thin in consistency, meaning it's easier to vaporise, so a higher PG content liquid is ideal for beginner vape kits. It's also what gives you more of a throat hit that gives you that smoking feel.
VG
Vegetable glycerin on the other hand is a much thicker, sweeter liquid. It's there to give you the vapour clouds you see people blowing all over the streets these days.
What does it mean when you put the two together?
Well, for those of you needing a higher nicotine level, you're probably best off with an even PG:VG ratio, like a 50:50 e-liquid, and should go for a standard vape pen or pod mod. The reason behind this is when you're vaping with a higher level of nicotine and using a more powerful vape, it can be too easy to get a bit too much nicotine.
Nicotine Strength
The strength of nicotine in your e-liquid is really important, especially if you're making the switch from smoking to vaping. The amount you get from a traditional cigarette is higher than what you'd get from vaping due to the way smoke reacts with your body compared to the vapour from an e-cigarette. The level indicated on the bottle is how much nicotine you get per 1ml of vape juice.
For a general break down this is what we'd recommend:
If you're a heavy smoker (over a pack a day) we'd say to start on a high nicotine level, around 18-24mg, which is the highest strength we stock.
If you're more of a pack-a-day kind of person, go for a middle-of-the-range 12mg.
For those of you who are light smokers, smoking only a few a day try out the 6mg strength.
Finally, anyone who's a social smoker, start out on 3mg, see how you feel, and go from there.
Recommended starter kits
Here at www.eco-vape.co.uk, we stock multiple starter kits perfect for anyone trying to make the switch from smoking!
Browse our wide selection of starter kits at https://www.eco-vape.co.uk/product-category/hardware/kits/
Check out our Menthol Madness Starter Kit Bundles for the best value for your money!
This bundle includes the popular Mouth to lung device Cosmo Kit by Vaptio plus, 5x Dainty's 10ml Liquids at a Nicotine strength of your choice! ONLY £40!!
The Vaptio Cosmo kit is highly compatible and interchangeable with other various Vaptio Cosmo coils, giving you a truly customisable experience. Multiple protection mode capabilities prevent short-circuiting, overcharging, and overheating. This mod delivers intense flavour and produces great clouds of vapour, and is suitable for beginners and experienced vapers alike.
Flavours Include:
Dainty's Menthol
Dainty's Special Menthol
Dainty's Heisenberg
Dainty's Blackcurrant Menthol
Dainty's Ice Mint
Grab yourself a great deal! This bundle includes a Viva Kita Fusion Device Direct to Lung Device, a pack of 5 coils, and a 50ml Dainty's Menthol E-liquid! ONLY £25!!
The Vaptio Fusion Special all-in-one starter kit is perfect for new vapers. Its easy-to-operate setup makes the device perfect to vape in no time. Featuring an ergonomic design, this kit will fit snugly in your hand. With its compact size, the Fusion is also perfect for stealth vaping and carrying on the go.
Box Contents:
1 x replacement coil
1 x box mod
1 x USB cable
1 x user manual