Early Bird Black Friday Vape Offers: Nic Salts, Vape Starter Kits & Shortfills.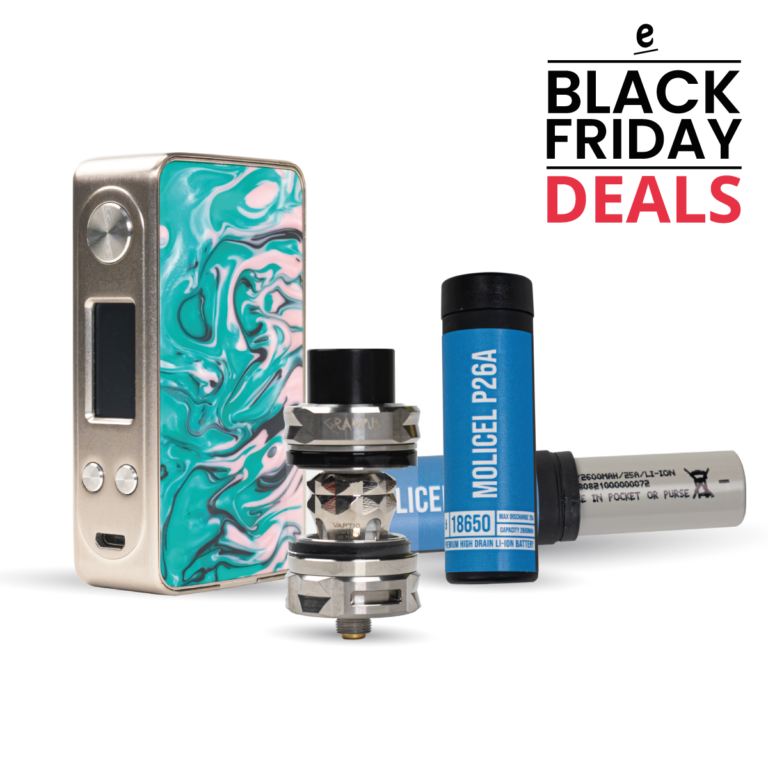 This year, our Black Friday vape offers are starting early! We've slashed prices across a range of vape mods, starter kits, e-liquids, shortfills and vaping hardware.
After a very long year, we've started our Black Friday vape offers early at Eco-Vape. This way, our customers can avoid the mad rush and have more time to enjoy great prices on e-liquid bundles, nic salts, shortfills and a range of vape hardware.
Whether it's a vape starter kit for Christmas or a Winter's supply of 10 Nic Salts for only £10, you're guaranteed to save money and find the perfect vaping gift with Eco-Vape this Black Friday!
10 Days of Amazing Savings
Our Black Friday vape deals will stretch over 10 days, from Friday 19th to 29th of November, finishing on Cyber Monday. Our limited time Black Friday deals will be available in our stores and on our online vape shop. 
We'll be adding new offers throughout the Black Friday week, so keep checking our website to make sure you get the best deals. 
Take a look at our vape offers below and save money on a range of vaping accessories and liquids.
What are our Black Friday Vape Deals?
FREE Next Day UK Delivery (*excludes weekends)
The Black Friday savings don't stop there. When you spend over £20, we'll cover the delivery cost to save our customers even more money. Then, you can enjoy next-day delivery on orders made before 1pm on weekdays (Mon-Thu). 
Orders placed on Friday before 1.00pm will arrive the following Monday and orders after 1.00pm on Friday will be delivered the next Tuesday. 
Have you tried the Hyppe Maxx Disposable Vape yet?

The Hyppe Maxx has quickly become our most popular disposable vape since it launched in October. Available in 5 mouth-watering flavours with 20mg of hybrid salt nicotine, it's a great way to help smokers take the first step to quitting smoking.
Fully TPD compliant, the Maxx is simple to use and designed for convenience, it slips right into your pocket. Each device contains 600 flavourful puffs and a powerful 500mAh battery to provide incredible flavour with every toke.
Get four Hyppe Maxx disposables for just £20, or try one for just £5.99. They Hyppe Maxx comes in the following flavours, with more on the way:
Hyppe Maxx Disposable Vapes - Lush Ice

Hyppe Maxx Disposable Vapes - Blueberry Ice

Hyppe Maxx Disposable Vapes - Mango Ice

Hyppe Maxx Disposable Vapes - Peach Ice

Hyppe Maxx Disposable Vapes - Pink Lemonade